Held on December 13th 2002, The 2002 BBC Video Games and Fictional Characters Telethon was a very important event in the history of Children's Television and Video Games, in it, Guests from Farthing Wood, Redwall, Pingu's World, Metal Gear Solid, Daytona USA, Thomas the Tank Engine and the entirety of Narnia. Along with the official song by Nickelback, "Look at this Pingu". Musical Guests included the Toy Dolls, Nickelback, Takenobu Mitsuyoshi, Jun Senoue, Iron Maiden, the late George Michael and Wham!, The Stranglers and many others. It Ended with a special edition of "Look at this Pingu". The Viewership of this reached 26,300,000. So more than a Third of the Country were watching it. £86 Million was raised by the Telethon, which included the search for Pingu, where the Farthing Wood Characters, Pingu's Family, the cast of EastEnders, Edmund Pevensie, Metamor Keep and Redwall searched for Pingu, Nickelback also joined in, playing "Look at this Pingu". Pingu was finally found in a closet in his bedroom, despite the British Countryside, Albert Square, Redwall, Metamor Keep and Antarctica being searched.
"Look at this Pingu" Became Number 1 for 10 weeks, and soon was used in Motonimus's YTP "Pingu and the Power of Jammie". Eventually, in 2005, "Look at this Pingu" was re-released as "Photograph" with edited lyrics about a Photograph. The Music Video was also known for Nickelback forming a beak and going "Noot Noot!".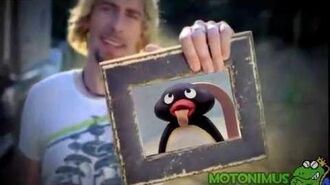 Ad blocker interference detected!
Wikia is a free-to-use site that makes money from advertising. We have a modified experience for viewers using ad blockers

Wikia is not accessible if you've made further modifications. Remove the custom ad blocker rule(s) and the page will load as expected.